Our Success Stories for the past year...
(Lost Item #2616)
I lost my engagement ring last week but didn't know where I lost it. I thought I had probably left it somewhere in the kitchen area in my house, so my wife & I carefully searched the kitchen area and then the entire house several times, but we still couldn't find it. We even dropped a webcam inside the floor air ducts of every room!
Then, I thought I must have lost it in my back yard lawn area as I was working on removing some wild mushrooms which had grown up in the lawn. After all that searching, I suddenly remembered that John Hawken, who in the past was my supervisor (when he worked the in Johnson County; KS area) telling me that he was the founder of a website called lostmystuff.net which has many volunteers all over who help people like me find their lost rings & such. I contacted John and filed a lost item report on the website and in a matter of a few hours I had received calls from three (3) detectorists!
Since Mr. Robert Davis (Bob) was the first to call us and was only a few miles away, he volunteered to come and help in the evening after work. When he arrived I told him the probable areas where I must have lost the ring and he began detecting, carefully inch-by-inch and digging in the grass wherever he heard interesting sounds.
Bob told me he has been detecting since he was 9 years old. He was a very nice guy and had a lot of knowledge and experience on many different metal detector brands. Eventually, after 30 minutes he heard the right sound and found the ring under some 4 inch thick grass, where we could have never found it with just our eyes! It was in the area of the lawn where the wild mushrooms had grown and I must have dropped it there.
Finding the ring made me so happy, as that ring means a lot to me. My wife and I are really greatful to Bob, John, the volunteers who called us, and the whole lostmystuff team. You guys are awesome and selflessly bring happiness to the world. God bless you all!
Nitin & Deepti
Found & Returned!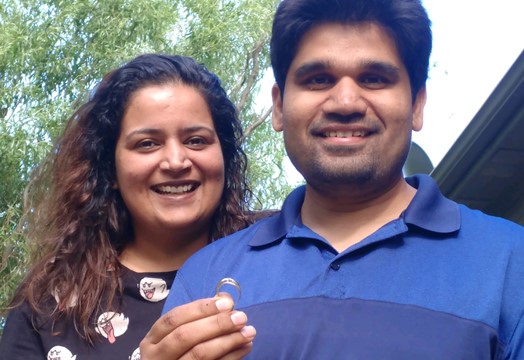 ~ ~ ~ ~ ~ ~ ~ ~ ~ ~ ~ ~ ~ ~ ~ ~ ~ ~ ~ ~ ~ ~ ~ ~ ~ ~ ~ ~ ~ ~ ~ ~ ~ ~
(Lost Item #2539)
Hi,
Back in January I reported my wedding ring lost in my yard. I live in Seven Hills Ohio. Well today a Lost My Stuff member came over and searched my yard and found the ring. I am so grateful. I thought the chances of finding it were very slim because I have a big yard. Jack indicated this was his first time doing this. He found the ring in under 90 minutes. I just want to say how grateful I am to Lost My Stuff and Jack. This has made me more hopeful and really brought me up when my health has been down.
Thanks again,
Randal
The Found Ring!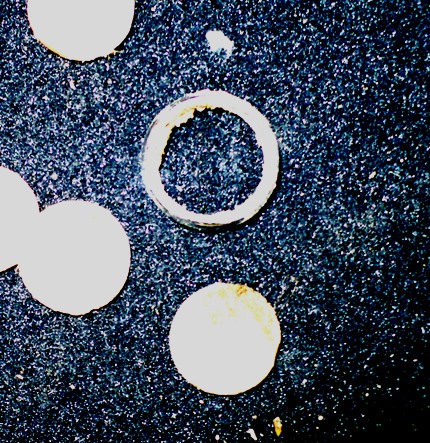 ~ ~ ~ ~ ~ ~ ~ ~ ~ ~ ~ ~ ~ ~ ~ ~ ~ ~ ~ ~ ~ ~ ~ ~ ~ ~ ~ ~ ~ ~ ~ ~ ~ ~
This Success Story was received from one of our volunteers who found both an earring and a wedding band for 2 of his neighbors:
My neighborhood chat room had a post from a woman looking to buy or rent a metal detector. Upon investigation I discovered she lives two doors down and across the street from me. She explained that in helping her second husband install a fence, while in the neighbor's backyard she removed a straw hat and it flipped one of her diamond earrings off. This was the last present she had received from her first husband before he passed away.
It was a small area and I thought no problem since she had the other earring as a guide. The AT Pro showed that wasn't true. The earrings were clip on type and the detector gave vary erratic sounds or no sound at all. I spent two days trying and on the second day the owner of the house came out and asked what I thought I was doing in her backyard. I explained and then she said she wished she knew me a year ago because her husband had lost his wedding band in their front yard raking leaves.
That night I studied up on my new XP Deus and discovered the gold nugget program. I decided that was the way to go for the earrings. As I walked across the street I turned on the detector and swing it in the front yard as practice as I made my way to the backyard. After 5 minutes I got a great sounding signal and there was the wedding band! I knocked on the back door to return it and the woman said "We are married again!"
I continued to the search area and after 20 minutes I was holding the earring also. I have received a pecan pie for the earring and a large pan of eggplant parmesan for the ring (he is a retired Italian chef).
What a hobby! What a good feeling! What a full belly!
Jeff Willcox
The Found Earrings!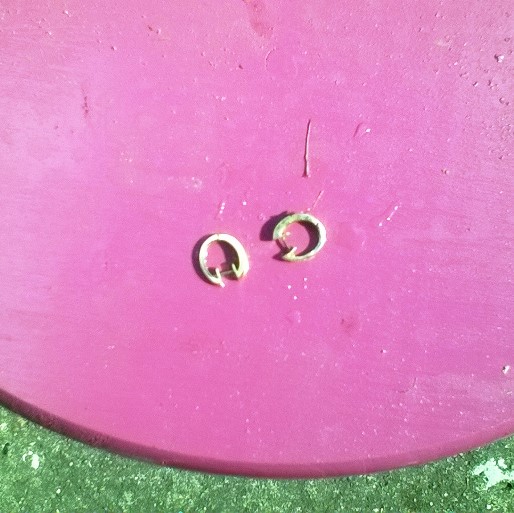 The Earring Owner!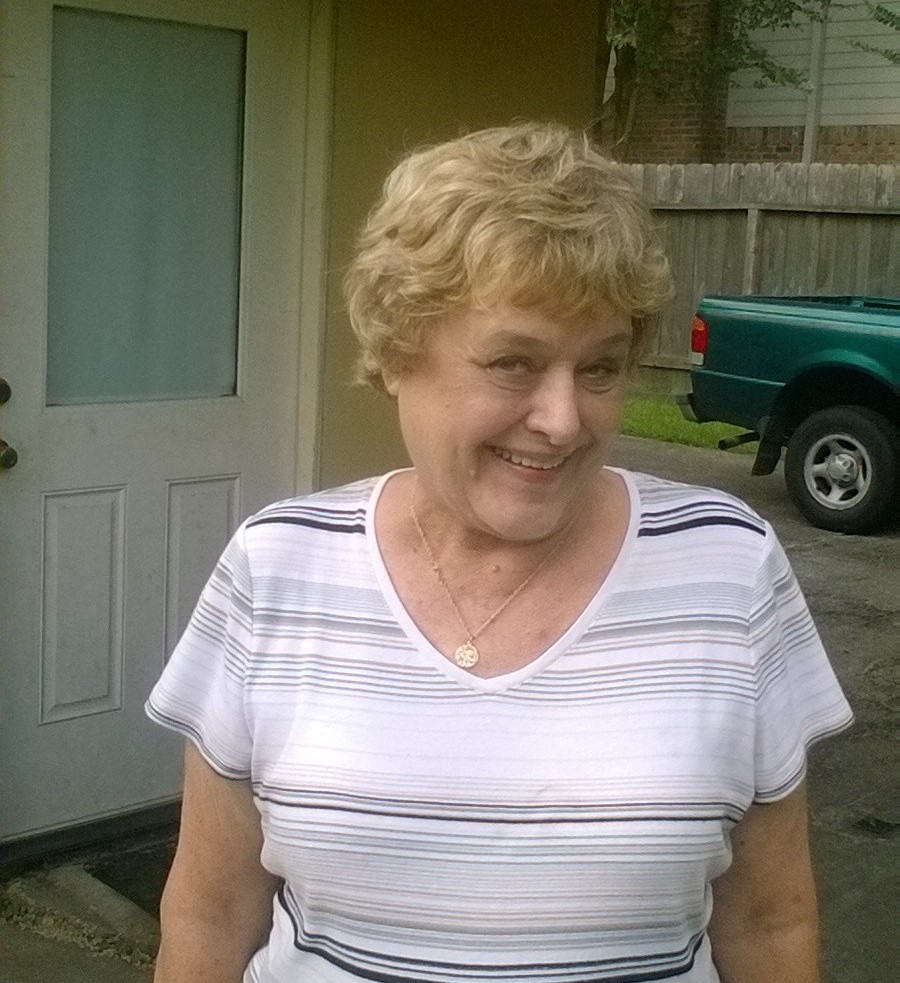 The Found Ring & Owner!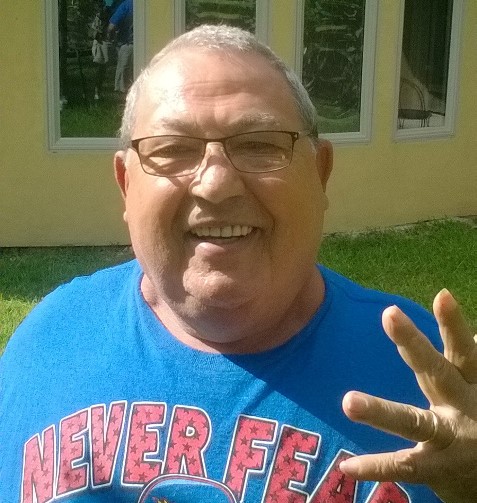 Dinner!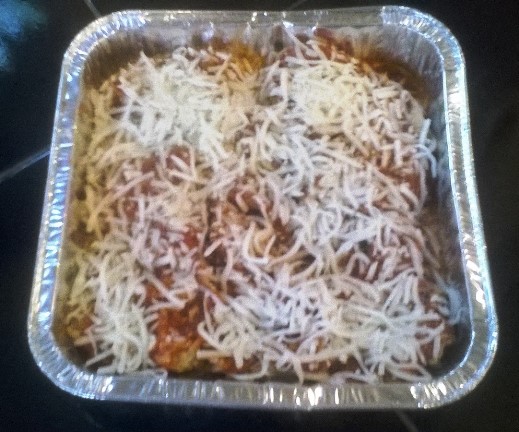 Dessert!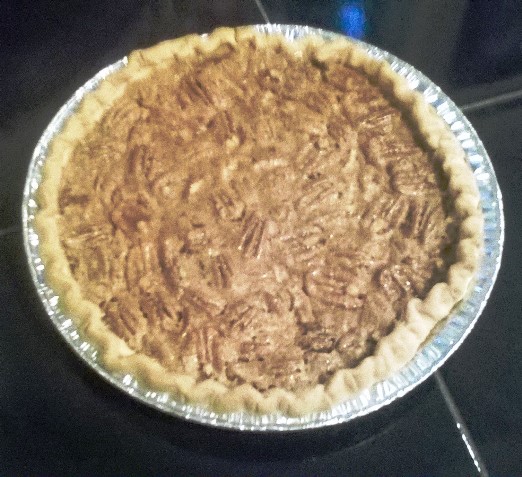 ~ ~ ~ ~ ~ ~ ~ ~ ~ ~ ~ ~ ~ ~ ~ ~ ~ ~ ~ ~ ~ ~ ~ ~ ~ ~ ~ ~ ~ ~ ~ ~ ~ ~
(Lost Item #2392)
After receiving the lost item email notification from John at LostMyStuff.net about a lost wedding ring set, I gave Tamera, the ring's owner a call. She had lost her wedding set while swimming at Loveland Lake in Loveland, Colorado. Living in Elizabeth, Colorado, about 100 miles from Loveland, I made arrangements with Tamera to meet at the lake the next day.
Tamera told me she had tried to find her rings out in the water several times over the succeeding weeks after losing them, and had reported them lost to the lifeguards. Checking with the lifeguards on duty this day revealed that no one had turned them in.
Tamera was prepared to get in the water, so I asked her to show me where she had lost her wedding set. As she waded out into the water, I followed a few paces behind her, detecting with my Excalibur as I went. Only 10 feet from the shore, I got a nice signal, but by now, Tamara was a good 10 yards further out in the water, indicating that was about where she had lost her rings, so without digging the just detected target, I proceeded out to where she stood and began a gridded search.
45 minutes later, having found only a few coins and pull tabs, and believing I would not now likely find her rings, I had worked my way back close to shore and arrived at the point where I'd gotten that first signal. Yes, as I pulled my scoop to the surface, I could see the glint of gold peeking through the rocks and sand in the scoop. I motioned to Tamara to come out to where I stood and raised the scoop up for her to look inside. With a look of pure astonishment, she quickly retrieved her ring set (two rings soldered together) and immediately broke into tears - tears of pure joy and happiness. She reached up and gave me a big hug. Seeing this, her three young children who had come to the lake with her, all came over and hugged me. I guess they figured if mamma was hugging me, they should do it too. I've received hugs of thanks before when I've found people's lost items, but believe me, having four people hugging me all at the same time is a feeling I will never forget. And it's times like this that make what we do at LostMyStuff so rewarding.
Mike in Elizabeth, Colorado
Found & Returned!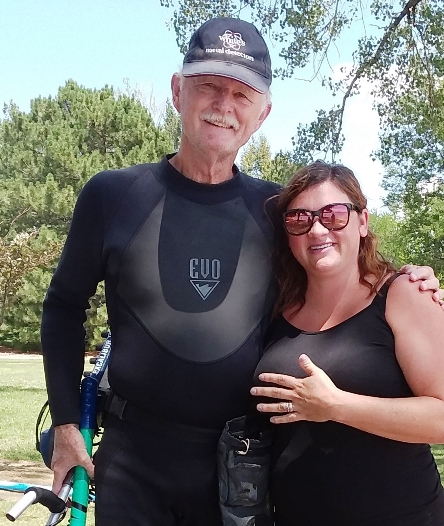 The Found Rings!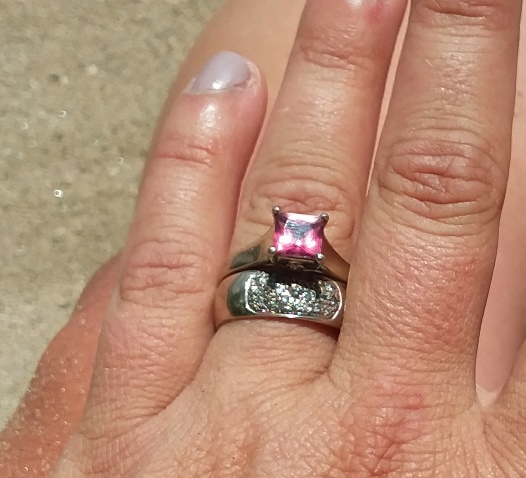 ~ ~ ~ ~ ~ ~ ~ ~ ~ ~ ~ ~ ~ ~ ~ ~ ~ ~ ~ ~ ~ ~ ~ ~ ~ ~ ~ ~ ~ ~ ~ ~ ~ ~
(Lost Item #2407)
John,
I found out about your website LostMyStuff.net a couple of days ago from a metal detecting blog. I was surprised to find someone in my area had posted a lost item a little over a month ago. The website showed this item was not searched for by area volunteers. I decide to volunteer and contact the owner Ken. Ken stated he lost the ring playing badminton in his backyard. He felt the ring fly off on a swing and watched it land in the grass. Ken searched the area with the help of three friends with no success and then posted the loss on LostMyStuff.net.
I reached out to Ken to see if the ring had been located yet. He said a few people had contacted him but no one had searched the area. I made arrangements to meet Ken and search for the missing ring this morning. He had a good idea as to where the ring was lost in the grass. I expanded the area slightly and began my search. Starting a grid search, I worked about 2-1/2 passes with a few targets, but no ring. In about another five feet, a solid target and a found ring! Ken was surprised I found the ring so fast. He was very appreciative and happy to have the ring back.
Thanks for the opportunity to volunteer and help find a precious item for someone.
Brad Z
Found & Returned!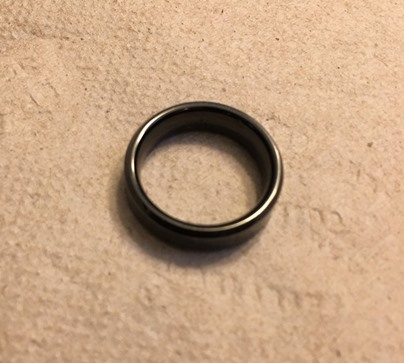 ~ ~ ~ ~ ~ ~ ~ ~ ~ ~ ~ ~ ~ ~ ~ ~ ~ ~ ~ ~ ~ ~ ~ ~ ~ ~ ~ ~ ~ ~ ~ ~ ~ ~
Click here to see more of our Success Stories.