Our Success Stories for the past year...
(Lost Item #2858)
Fly across country to attend a relic show and end up doing a ring recovery! The family of a young lady was staying at a quaint little cabin in the mountains of Tennessee having a family reunion over the 4th of July weekend when a ring given to her by her boyfriend went missing. This ring, a gold band, is not just a simple gold ring. This ring belonged to one of his great grandparents so it is a cherished family heirloom. The events of the day had the family playing volleyball in the lower flat area (a couple of acres of grass) about a hundred yards from the cabin. And then they spent some time around the firepit that night. The ring could be in either location or some place in between these areas. Potentially a VERY large search area. The ring search was set up by my friend Craig Nesmith after he had received a Lost Item Report from the Lost My Stuff Group,of which he is a member. We contacted the owner of the property who granted us permission to search.
Craig and I met the owner at the gate for the property and she let us in and showed us around a bit. I grabbed one of my detectors and headed out while Craig readied his equipment. It was getting warm so I wanted to get going sooner rather than later.
I looked over the site quickly and determined to start my search at the walkout basement door area and search towards the firepit. Within a few swings I heard a promising signal, I parted the grass and there laid a lovely gold ring. I returned to the car just as Craig was heading out to conduct the search. It was a quick search. I will be mailing the ring back to the owner ASAP.
Jeff Lubbert
And the email from the owner:
Dear Craig,
I am more then ecstatic that you found the ring. My sister-in-law saw the post first before I found out. She put it on our GroupMe page that the ring was found, and the texts went flying after that. Everyone was so excited! We were a group of about 50 of us searching for the ring and could not find it. My brother heard about your web page and had me put it out there.
The owner of the ring is my daughters boyfriend who is from Australia. It was his family heirloom that was passed down through generations. He actually cried when finding out the news!!
I cannot thank you both enough!!!!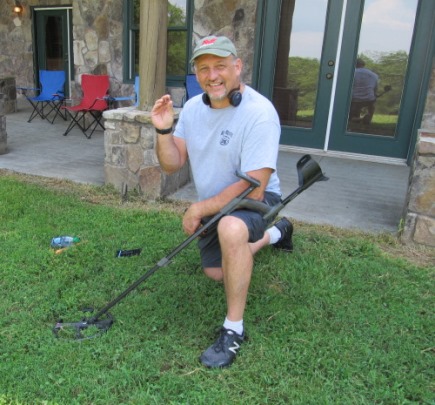 Found It!!!!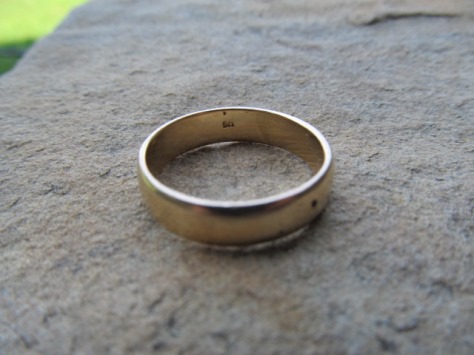 The Found Ring
~ ~ ~ ~ ~ ~ ~ ~ ~ ~ ~ ~ ~ ~ ~ ~ ~ ~ ~ ~ ~ ~ ~ ~ ~ ~ ~ ~ ~ ~ ~ ~ ~ ~
(Lost Item #2876)
My ring has been found!
I am so thankful for your website. John contacted me and said he found out my ring was lost via the Lost My Stuff Group. He found my ring in 5 minutes and was the coolest, nicest human!
Forever grateful for your website and it's purpose!
THANK YOU!
Jenn Vercammen
And a note from John Coppin who found her ring:
After about seven minutes of searching, I located Jen's husband's wedding band in about 5 inches of packed mud. He had lost it recently while laying a new section of sod in their yard. This ring meant a lot to her, as it had a carving of her heartbeat on the inside of the ring. When I dug the clump of packed mud... I knew it was in there, so I simply handed that to her and let her have the excitement of pulling it out.
Her look was priceless...
John Coppin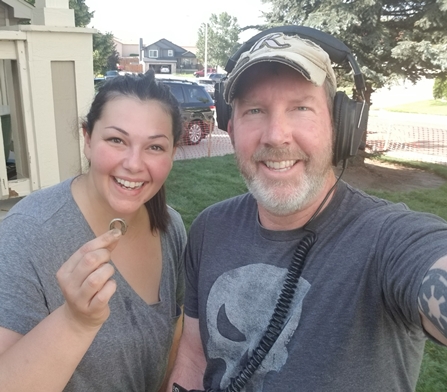 The Happy Owner!!!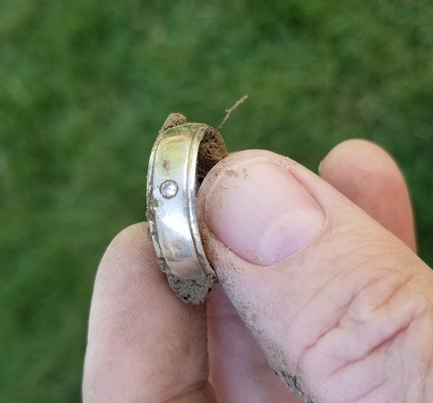 The Found Ring
~ ~ ~ ~ ~ ~ ~ ~ ~ ~ ~ ~ ~ ~ ~ ~ ~ ~ ~ ~ ~ ~ ~ ~ ~ ~ ~ ~ ~ ~ ~ ~ ~ ~
(Lost Item #2843)
I emailed Keith, who had reported a lost ring in Mansfield, Ohio last week. He had already been contacted by another LMS member and they were planning to search for it that day. I sent a follow-up email the next day to make sure someone had searched for his ring and Keith stated someone had come by, but that the search was unsuccessful due to there being so much metal debris in the ground.
That being the case, we arranged for me to meet him at 4:30pm when he got off work to attempt a search for it. I arrived at 4:30pm as planned, but Keith wasn't home yet. He had stated it was lost in his backyard so I decided to go ahead and start without him. He did have a lot of metal in his yard, but I checked every possible surface target with my pro-pointer. After about ten minutes I located his ring, about ten feet from his rear deck.
I called Keith to see how soon before he'd be home and put the ring in my pocket. When Keith arrived I asked him to show me where he thought it was. He took me to the rear of the yard and stated it was around there. I then pulled his ring out of my pocket and handed it to him!!! I showed him where I found it, about 25 feet from where he thought it was.
He was very happy to have his ring back, and I was just as happy to be able to help him out!!!
Tom Durbin
~ ~ ~ ~ ~ ~ ~ ~ ~ ~ ~ ~ ~ ~ ~ ~ ~ ~ ~ ~ ~ ~ ~ ~ ~ ~ ~ ~ ~ ~ ~ ~ ~ ~
I found this class ring last weekend at Topsail Island N.C.
I called the local ring representative for Herff Jones and he gave me the kids number. I called the school and they were in the middle of their graduation walk at UNCW. The student came by after graduation and got his ring back!!!
David Frazier
The Found Ring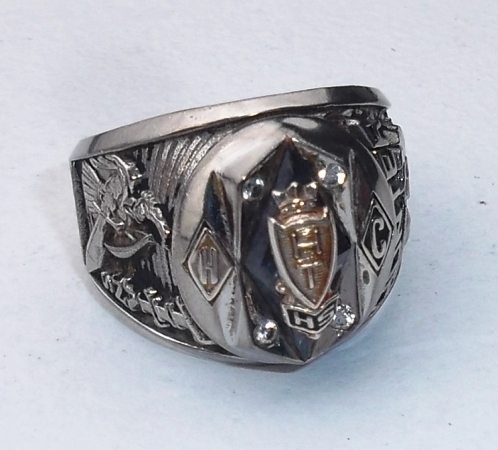 ~ ~ ~ ~ ~ ~ ~ ~ ~ ~ ~ ~ ~ ~ ~ ~ ~ ~ ~ ~ ~ ~ ~ ~ ~ ~ ~ ~ ~ ~ ~ ~ ~ ~
(Lost Item #2834)
I met with Darren and he explained where he had lost / flung his ring off. I started with the easy stuff, the grass and wood chips. Of course it wasn't there...
I told Darren that I'd left the flower beds for last, because I hate smashing down the vegetation. He gladly said to just go ahead, so I proceeded to search in the flower beds.
Maybe 2 minutes into looking in the plants, I looked at Darren and said "my work here is done". He said "what!!?" and I replied "I have your ring!"
Easy as that!
Mark Whipkey
It's right there!!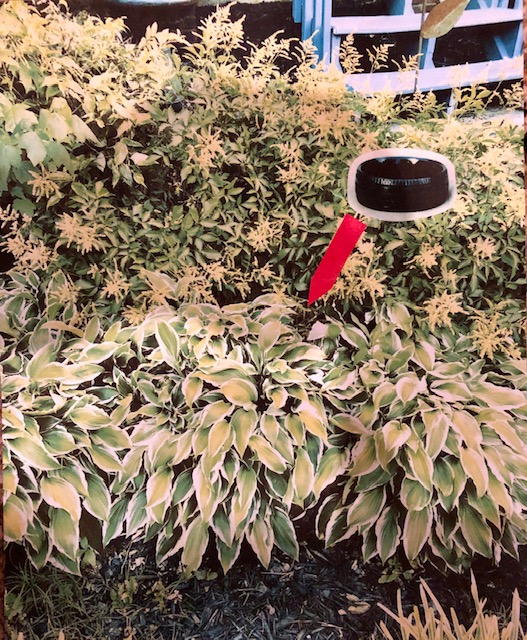 The Found Ring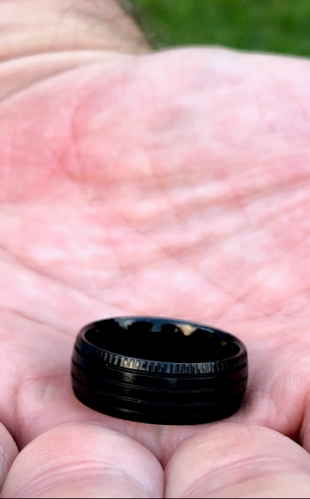 ~ ~ ~ ~ ~ ~ ~ ~ ~ ~ ~ ~ ~ ~ ~ ~ ~ ~ ~ ~ ~ ~ ~ ~ ~ ~ ~ ~ ~ ~ ~ ~ ~ ~
(Lost Item #2746)
Success!!!
I contacted the owner and went out and found it this afternoon.
Definitely a happy couple !!!
Mark Hobson
The Found Ring!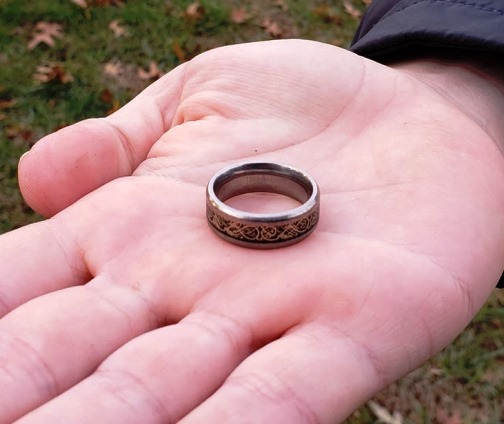 ~ ~ ~ ~ ~ ~ ~ ~ ~ ~ ~ ~ ~ ~ ~ ~ ~ ~ ~ ~ ~ ~ ~ ~ ~ ~ ~ ~ ~ ~ ~ ~ ~ ~
(Lost Item #2730)
After receiving a Lost Item Report from Lost My Stuff for Larry and his wife's lost wedding ring, I called him and made plans to meet at his house after work, which made it dark and cool out, around 40 degrees.
The ring had come off Larry's wife's finger while they were trimming brush in their yard. The game plan we came up with was to check in front of the brush pile first, because he and his wife had pulled most of the brush out onto the lawn and searched through it with no luck, and then put it back thinking that the ring may have been moved to the lawn. After that we checked the top and sides of the brush pile in case it was possibly hung up on a branch.
Next I went to the side of the pile where Larry's wife was when she had thrown some brush into the pile and the ring had flown off. I went about 5 steps with no signal until I ran my coil under the overhang of the pile where I got a solid +20 on my Whites DFX and told Larry that this was probably it. (I had told him we would know because of the solid repeatable signal and a almost zero depth).
I moved away the grass and leaves and there was the ring, glaring from the spotlight Larry had plugged in ready to use. I picked it up and said "Here it is" as I handed it to him.
We both were saying we coouldn't believe how easy it was once we checked in the pile. If it had got moved onto the lawn from the previous search and we started in the pile in the first place we would of been there for over an hour going through the briars and branches.
Long story, but quick find. I had called Larry at 6:10 Friday to tell him I was 10 minutes away and I was driving home at 6:45!
Thanks again for having this web site available -- it's as good for people who have lost things as it is for people who find them!
Mike Bailey
Very Happy Wife!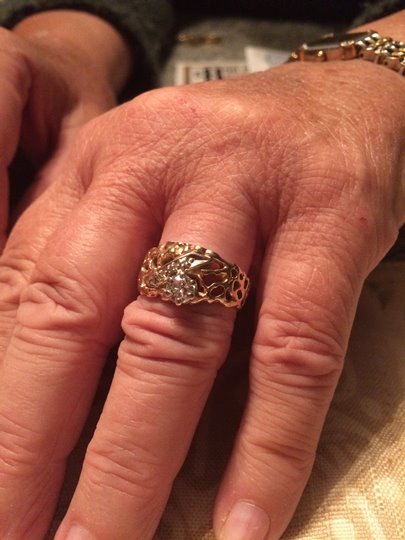 ~ ~ ~ ~ ~ ~ ~ ~ ~ ~ ~ ~ ~ ~ ~ ~ ~ ~ ~ ~ ~ ~ ~ ~ ~ ~ ~ ~ ~ ~ ~ ~ ~ ~
Click here to see more of our Success Stories.