Our Success Stories for the past year...
(Lost Item #2977)
The teenage daughter lost her gold chastity ring in their barn while feeding the goats. There was so much metal in the barn that I ended up crawling on my hands and knees with my pinpointer. I ended up finding it about a foot from the fence! The mom was emotional after because she purchased it for her and they have a wedding tomorrow.
This was my first ring recovery!
The Found Ring!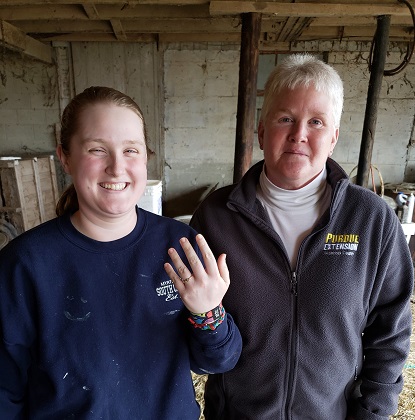 ~ ~ ~ ~ ~ ~ ~ ~ ~ ~ ~ ~ ~ ~ ~ ~ ~ ~ ~ ~ ~ ~ ~ ~ ~ ~ ~ ~ ~ ~ ~ ~ ~ ~
(Lost Item #2942)
It is hard to express how grateful I am for your website and Eric, the volunteer searcher who helped recover my missing wedding band. I don't have a dramatic story about losing my ring. It's not an expensive item of jewelry. It does however have a sentimental value that I cannot put a price on. On Veterans Day, I took the opportunity to get some yard work done, and after heading inside for a cup of coffee, I realized the familiar feeling of my wedding band's presence was absent from my finger. Looking down at my hand confirmed it was gone. I covered a decent amount of ground raking and bagging leaves and cleaning and moving deck furniture back into our garage, which made the prospect of finding the ring daunting. Given the condition of our yard, grass, leaves, twigs, and wet ground, a visual search would be almost pointless. I tried for a bit in the dark using a flashlight, but I knew it would likely be unsuccessful.
I'm not exactly sure how I found your site, perhaps just googling something like "lost ring in yard" but I'm so happy I did. I reported a lost item, and within a few hours, I was contacted by three volunteers. Eric was available to come out the following day, and within 10 minutes of starting to search, he had located my ring. Amazing!
I can honestly say, this was the most endearing act of kindness a relative stranger has ever performed for me (no pun intended!). It just means so much, and it's something I will always cherish. It was one of those experiences that really restores your faith in humanity.
Cheers -
John
The Found Ring!
~ ~ ~ ~ ~ ~ ~ ~ ~ ~ ~ ~ ~ ~ ~ ~ ~ ~ ~ ~ ~ ~ ~ ~ ~ ~ ~ ~ ~ ~ ~ ~ ~ ~
(Lost Item #2938)
I lost my wedding ring in my front yard on Saturday, October 26, it was lost under a few inches of snow, and I posted a report on Lost My Stuff on Sunday the 27th. A few days later, Greg contacted me, offering to help locate my ring. He came to my house on the morning of November 2nd, and I described the ring to him (tungsten) and how and where I lost it. He got to work, and within just a few minutes, he found it! What a relief for me (and my wife)! It was so wonderful that Greg was willing to volunteer his time and equipment, and we are so grateful to him and Lost My Stuff!
Thanks!
The Found Ring!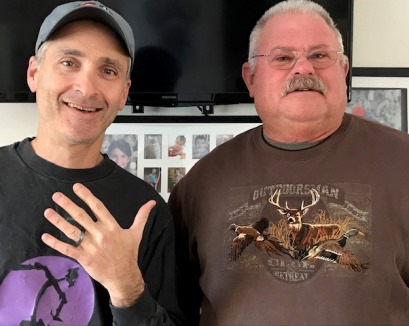 ~ ~ ~ ~ ~ ~ ~ ~ ~ ~ ~ ~ ~ ~ ~ ~ ~ ~ ~ ~ ~ ~ ~ ~ ~ ~ ~ ~ ~ ~ ~ ~ ~ ~
(Lost Item #2858)
Fly across country to attend a relic show and end up doing a ring recovery! The family of a young lady was staying at a quaint little cabin in the mountains of Tennessee having a family reunion over the 4th of July weekend when a ring given to her by her boyfriend went missing. This ring, a gold band, is not just a simple gold ring. This ring belonged to one of his great grandparents so it is a cherished family heirloom. The events of the day had the family playing volleyball in the lower flat area (a couple of acres of grass) about a hundred yards from the cabin. And then they spent some time around the firepit that night. The ring could be in either location or some place in between these areas. Potentially a VERY large search area. The ring search was set up by my friend Craig Nesmith after he had received a Lost Item Report from the Lost My Stuff Group,of which he is a member. We contacted the owner of the property who granted us permission to search.
Craig and I met the owner at the gate for the property and she let us in and showed us around a bit. I grabbed one of my detectors and headed out while Craig readied his equipment. It was getting warm so I wanted to get going sooner rather than later.
I looked over the site quickly and determined to start my search at the walkout basement door area and search towards the firepit. Within a few swings I heard a promising signal, I parted the grass and there laid a lovely gold ring. I returned to the car just as Craig was heading out to conduct the search. It was a quick search. I will be mailing the ring back to the owner ASAP.
Jeff Lubbert
And the email from the owner:
Dear Craig,
I am more then ecstatic that you found the ring. My sister-in-law saw the post first before I found out. She put it on our GroupMe page that the ring was found, and the texts went flying after that. Everyone was so excited! We were a group of about 50 of us searching for the ring and could not find it. My brother heard about your web page and had me put it out there.
The owner of the ring is my daughters boyfriend who is from Australia. It was his family heirloom that was passed down through generations. He actually cried when finding out the news!!
I cannot thank you both enough!!!!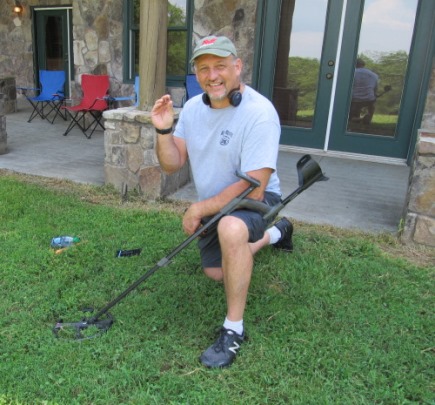 Found It!!!!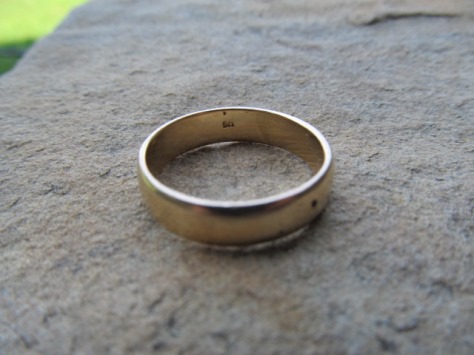 The Found Ring
~ ~ ~ ~ ~ ~ ~ ~ ~ ~ ~ ~ ~ ~ ~ ~ ~ ~ ~ ~ ~ ~ ~ ~ ~ ~ ~ ~ ~ ~ ~ ~ ~ ~
(Lost Item #2876)
My ring has been found!
I am so thankful for your website. John contacted me and said he found out my ring was lost via the Lost My Stuff Group. He found my ring in 5 minutes and was the coolest, nicest human!
Forever grateful for your website and it's purpose!
THANK YOU!
Jenn Vercammen
And a note from John Coppin who found her ring:
After about seven minutes of searching, I located Jen's husband's wedding band in about 5 inches of packed mud. He had lost it recently while laying a new section of sod in their yard. This ring meant a lot to her, as it had a carving of her heartbeat on the inside of the ring. When I dug the clump of packed mud... I knew it was in there, so I simply handed that to her and let her have the excitement of pulling it out.
Her look was priceless...
John Coppin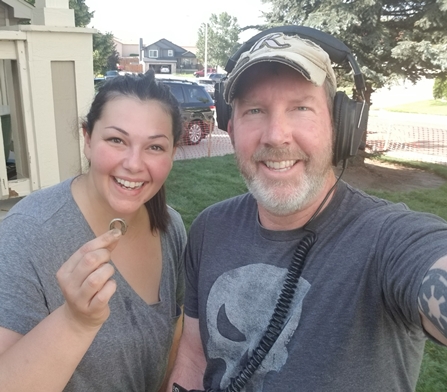 The Happy Owner!!!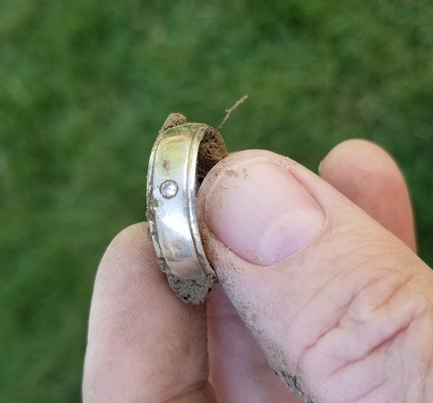 The Found Ring
~ ~ ~ ~ ~ ~ ~ ~ ~ ~ ~ ~ ~ ~ ~ ~ ~ ~ ~ ~ ~ ~ ~ ~ ~ ~ ~ ~ ~ ~ ~ ~ ~ ~
Click here to see more of our Success Stories.