Our Success Stories for the past year...
(Lost Item #3205)
This item was lost at the beach in Destin, Florida back in early October. One of our members managed to find it a few days ago.
Congratulations to Dan Ortiz !!!
The Found Ring!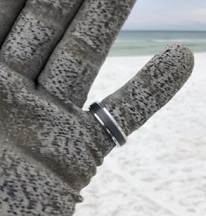 Delivered!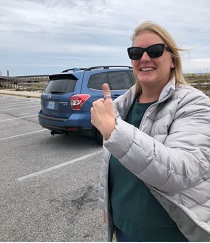 Back with Owner!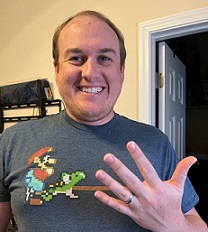 ~ ~ ~ ~ ~ ~ ~ ~ ~ ~ ~ ~ ~ ~ ~ ~ ~ ~ ~ ~ ~ ~ ~ ~ ~ ~ ~ ~ ~ ~ ~ ~ ~ ~
(Lost Item #3168)
The ring was lost in the owner's backyard about a week ago. He felt it fly off his finger at the time but didn't hear it ding off the patio. He went and bought his own metal detector to try and find it but the thing barely worked so that was a bust, and then he filed a lost item report with us (Lost My Stuff).
I got there at 5:50pm with my Equinox 800, and we found it within 5-7 minutes, even though he'd been looking for it for a week and I still barely know what I'm doing, but the 800 is a great piece of equipment so even on the very basic settings I used it still worked like a charm! The ring was the second hit I heard. I had given the owner my pinpointer to follow along behind me and do a little digging in the mud since we've had a LOT of rain here lately, and he found it pressed all the way into the mud, probably 2 feet off the patio and an inch or so into the mud. (I believe it was buried in the mud due to him or someone else stepping on it while looking for it during the last week).
We were both very excited as he'd obviously been looking hard for days and I'm new to the group and it was my first time to go search and find something. I actually think I may have been more excited than he was! I was so happy we found it!
By the way, we did the whole search in the rain! I wanted to help him ASAP as I was sure missing your wedding ring must make both parties really sad and anxious, and who cares about a little rain anyways!
P.S. I really enjoy being a member of the Group. It's such a nice thing to be able to help people in such an "easy" and important way!
Jen
The Found Ring!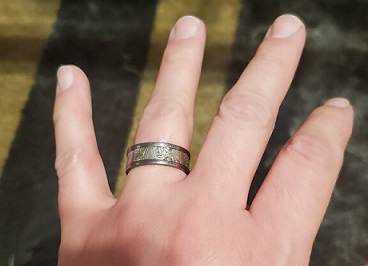 ~ ~ ~ ~ ~ ~ ~ ~ ~ ~ ~ ~ ~ ~ ~ ~ ~ ~ ~ ~ ~ ~ ~ ~ ~ ~ ~ ~ ~ ~ ~ ~ ~ ~
(Lost Item #3166)
The mans tungsten wedding ring was lost by the husband in the Poudre River in Windsor, Colorado while tubing with his wife, family and friends. He stated that the ring came off in shallow water while attempting to paddle around a deposit of cobble stones. He visually marked the spot and filed a lost item report that afternoon. I received the report, contacted him, and we arranged to meet the next morning at 9:00.
He brought along his father who was also on the tubing trip the previous day. When we met, our first challenge was how to get to the search site as the river bank was private property. After checking with a passing Windsor policeman we were able to find an available route to the site over public land. We arrived at the site and waded to the pile of cobble. He pointed to an area of about 20'x20', and said that he was concerned the ring had traveled downstream. I said that I thought it had stayed put, based on my years of gold prospecting and had probably lodged itself behind one of the coble stones.
The water was only about 10" deep over the cobbles but running very fast. I learned that the best way to swing the coil in running water was to turn sideways to the current, plunge the coil under the water upstream and let the water take it by me to the end of the swing, then lift it out, step forward and repeat. After about 15 minutes I got a solid 19 hit on my Minelab Equinox 800 reading only about 2 inches below the coil. The husband, using my submersible pinpointer, squatted down to recover the target, looked up with the biggest smile on his face, and his dad and I knew we had found the ring.
We all 3 stood there in the middle of the river excited and high 5'ing each other. We were back at our trucks by 10:15 and by 10:30 were on our way. It was a great recovery and I was able to help put smiles on some faces.
Greg
We Found It!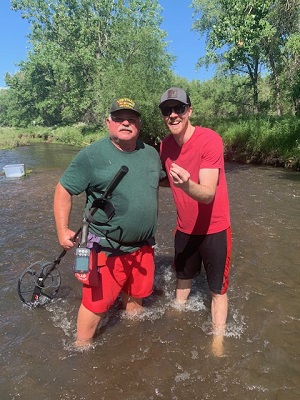 Happy Campers!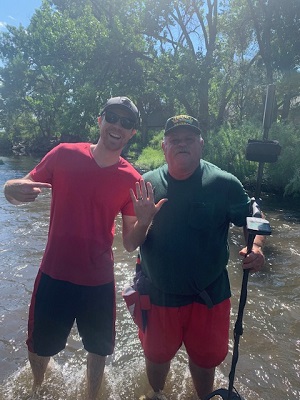 ~ ~ ~ ~ ~ ~ ~ ~ ~ ~ ~ ~ ~ ~ ~ ~ ~ ~ ~ ~ ~ ~ ~ ~ ~ ~ ~ ~ ~ ~ ~ ~ ~ ~
(Lost Item #3135)
I saw a lost ring report come through about mid-week. The location was a little over an hour away, but on Friday I made contact with Gloria and made arrangements to search for the ring Sunday after Church. She had told me another person had already searched, but I thought I'd still try to help her and her husband Dale try and find the ring anyways. After arriving at the softball field where Dale lost his wedding band I asked a few questions and started my search.
After half an hour or so Dale, Gloria and their son Nicholas had to leave. I said I'd stay and continue looking for awhile longer, and assured them I'd call if I was able to recover the ring. I made two more "down and back" passes on my grid search when I hit the low tone I was listening for. Nestled in the grass was the beautiful gold and diamond ring!
A quick call had the entire family turning around and returning to the park, this time including their daughter Natalie. Smiles, thanks and handshakes followed -- a true blessing to meet fine people and to help return such a precious item like a wedding ring.
Prayers were answered today.
Charles
The Found Ring!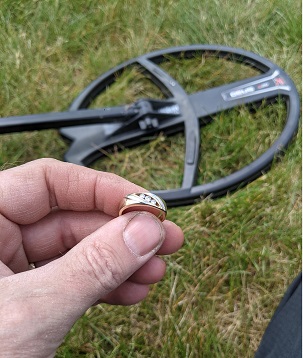 ~ ~ ~ ~ ~ ~ ~ ~ ~ ~ ~ ~ ~ ~ ~ ~ ~ ~ ~ ~ ~ ~ ~ ~ ~ ~ ~ ~ ~ ~ ~ ~ ~ ~
(Lost Item #3127)
Good afternoon John --
I received the lost ring report last night. I emailed Ashley this morning and made arrangements to meet her and her husband after work. I met them at their house around 4pm today and they explained how and where they lost the ring. After approximately 5 minutes I was able to locate and return her husbands wedding band. They were very gracious and offered to pay, which I refused. I explained we do this for free.
The thrill of finding and returning another ring was reward enough!
Thanks,
Tom Durbin

The Happy Owner!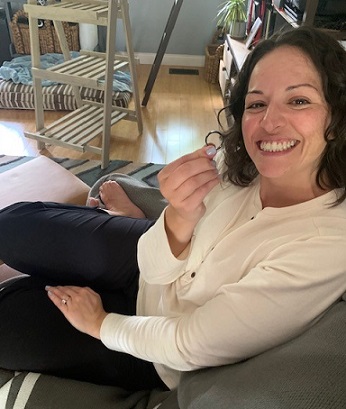 ~ ~ ~ ~ ~ ~ ~ ~ ~ ~ ~ ~ ~ ~ ~ ~ ~ ~ ~ ~ ~ ~ ~ ~ ~ ~ ~ ~ ~ ~ ~ ~ ~ ~
(Lost Item #3131)
Hello John,
I contacted the owner while I was at the vet's office with my JRT. He reported that another detectorist was scheduled to look for the ring that morning, and provided me the details regarding the location of the loss.
Later in the day, he reported that the first seeker found the area too trashy (a grassy area about 200'x100', adjacent to a road and a supermarket parking lot) and that he had been unsuccessful. My wife checked the weather forecast for the next day and it showed heavy thunderstorms in the area. She convinced me to make the hour drive to the search area around 4pm today.
Once I got there I decided to concentrate on surface targets since the ring had been lost the day before. I tested a ring which I thought was tungsten (it wasn't) and got a distinct "double beep", 10/11 on the Nox. After eyeballing the area first but finding that the grass was too high and thick, I began detecting, taking out about 20 minutes to shoot the breeze with a friendly MD'r who stopped by to chat.
Luck was with me -- I got a clear 17 signal, no double beep, but something told me to check it further. I located the ring with my pinpointer. I think it had been stepped on and pushed into the surface.
I notified the owner and mailed it to him the next day. Very, very nice guy. I'm glad that I could help.
Cheers,
Devin
It's here somewhere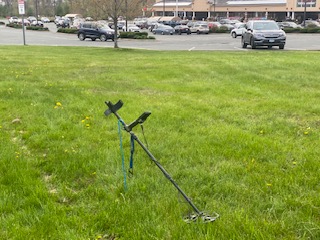 Found it!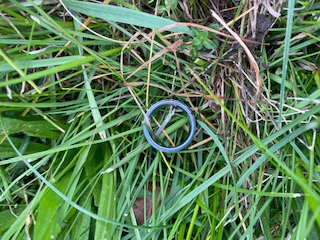 ~ ~ ~ ~ ~ ~ ~ ~ ~ ~ ~ ~ ~ ~ ~ ~ ~ ~ ~ ~ ~ ~ ~ ~ ~ ~ ~ ~ ~ ~ ~ ~ ~ ~
(Lost Item #3128)
Hello John,
The owner came out and showed me the area where he thought he lost the ring while throwing a tarp over the chicken coop. Because there was so much metal in the immediate area, I thought I should try to eyeball it before resorting to the metal detector. On my second or third time around the perimeter of the coop I spotted it half-hidden under a leaf. I was too surprised to take an "in situ" photo, so I replaced it near its original location.
Regards,
Devin
Where to look?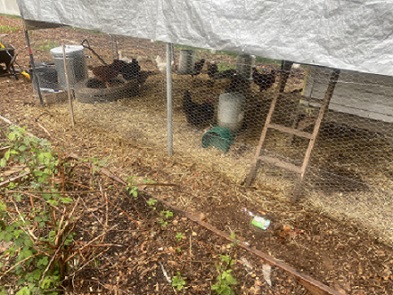 There it is!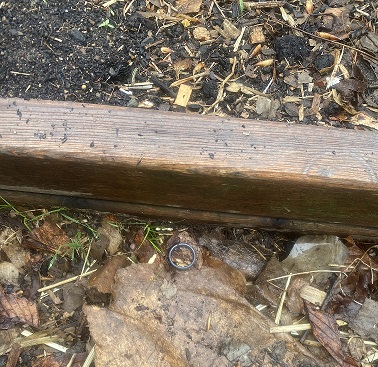 ~ ~ ~ ~ ~ ~ ~ ~ ~ ~ ~ ~ ~ ~ ~ ~ ~ ~ ~ ~ ~ ~ ~ ~ ~ ~ ~ ~ ~ ~ ~ ~ ~ ~
Click here to see more of our Success Stories.