Our Success Stories for the past year...
(Lost Item #2407)
John,
I found out about your website LostMyStuff.net a couple of days ago from a metal detecting blog. I was surprised to find someone in my area had posted a lost item a little over a month ago. The website showed this item was not searched for by area volunteers. I decide to volunteer and contact the owner Ken. Ken stated he lost the ring playing badminton in his backyard. He felt the ring fly off on a swing and watched it land in the grass. Ken searched the area with the help of three friends with no success and then posted the loss on LostMyStuff.net.
I reached out to Ken to see if the ring had been located yet. He said a few people had contacted him but no one had searched the area. I made arrangements to meet Ken and search for the missing ring this morning. He had a good idea as to where the ring was lost in the grass. I expanded the area slightly and began my search. Starting a grid search, I worked about 2-1/2 passes with a few targets, but no ring. In about another five feet, a solid target and a found ring! Ken was surprised I found the ring so fast. He was very appreciative and happy to have the ring back.
Thanks for the opportunity to volunteer and help find a precious item for someone.
Brad Z
Found & Returned!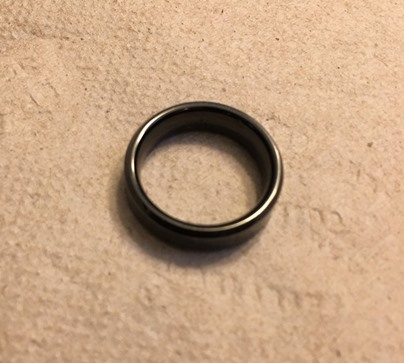 ~ ~ ~ ~ ~ ~ ~ ~ ~ ~ ~ ~ ~ ~ ~ ~ ~ ~ ~ ~ ~ ~ ~ ~ ~ ~ ~ ~ ~ ~ ~ ~ ~ ~
(Lost Item #2318)
When I received notice that a pistol slide stop was reported lost in Toppenish, Washington I hoped I would have the opportunity to search for it. I live in the neighboring state of Oregon nearly 180 miles from Toppenish. However, my brother and sister live only 20 miles from where the item was reported lost and my wife and I were planning to attend a family BBQ there in just a few weeks. We would be passing within 3 miles of the lost item!
I contacted Tony, the owner of the lost piece, and we arranged to meet and attempt the search. Tony had been target practicing with his family when the small mechanism that ejects fired cartridges malfunctioned and fell from the handgun unnoticed. The terrain was pasture grass over 12 inches long and the small piece had disappeared in the tall grass. We searched an area about 10 feet by 10 feet. To make the search even more challenging there was a large number of empty brass casings scattered over the area. It was like searching for a needle in a haystack!
After nearly 30 minutes of searching we still had not located the missing piece. We decided to expand the search area. I went about 6 feet and had a solid signal. I used my pin pointer to penetrate the tall grass and locate the target. I was very relieved to recover the small 2" x 1/2" slide stop. Tony was pleased to have what had been lost and I felt satisfaction in another successful hunt.
Don Schell
Found & Returned!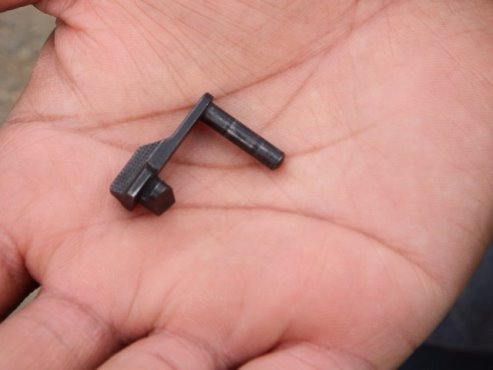 ~ ~ ~ ~ ~ ~ ~ ~ ~ ~ ~ ~ ~ ~ ~ ~ ~ ~ ~ ~ ~ ~ ~ ~ ~ ~ ~ ~ ~ ~ ~ ~ ~ ~
(Lost Item #2313)
I cannot tell you how much we appreciate Mr. Mark Whipkey for finding my husbands wedding ring. Once our request posted we had several people call, but he was the closest to our house. Once he arrived he started looking and quickly found the ring in a flower bed under about 2" of soil. What a blessing this was for us, we were sure we would never see this ring again! Thanks again for this wonderful group of people!
Found & Returned!
The Found Ring!
~ ~ ~ ~ ~ ~ ~ ~ ~ ~ ~ ~ ~ ~ ~ ~ ~ ~ ~ ~ ~ ~ ~ ~ ~ ~ ~ ~ ~ ~ ~ ~ ~ ~
On Saturday the 24th of June, shortly after arriving at the beach, in Surfside, Texas I was approached by a recently engaged young lady who had lost her engagement ring and she and her family had been sifting the sand for and hour with their hands. At the area she pointed to several spots it may have gone into the shallow water so I began to search, digging two trash targets and the ring was the third target. When I handed it to her she was so happy she cried for a moment before realizing she needed to call her boyfriend who thought it was gone for good. The family tried to pay me but I refused. It was a pleasure. I did give them my card with LOST MY STUFF.net on it and tell them they could make a donation to the group.
Beyond Words!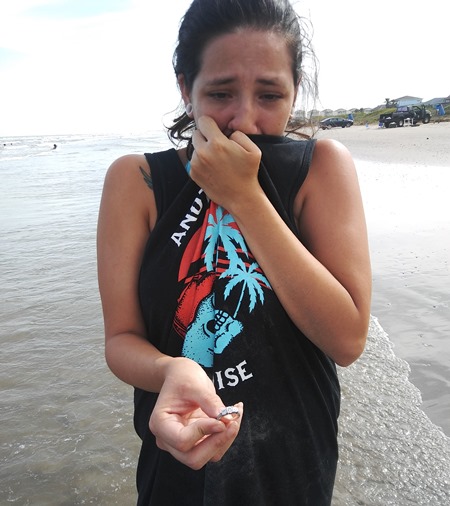 ~ ~ ~ ~ ~ ~ ~ ~ ~ ~ ~ ~ ~ ~ ~ ~ ~ ~ ~ ~ ~ ~ ~ ~ ~ ~ ~ ~ ~ ~ ~ ~ ~ ~
(Lost Item #2252)
I contacted Dustin, who told me his wife had lost her wedding ring near their home in Sequim, WA. He said they had been in front of their house playing and riding their ATV when she realized the ring was missing. Dustin said there had been some searching by others, but the ring had not yet been found.
I went and hunted the area that other hunters had not yet searched, including a portion of their front yard and an area across the street from their home. After about 2 hours of hunting, I found the ring in the ditch across the street, covered by leaves.
I was really excited when I brushed the leaves aside and saw the diamond, but not as excited as Dustin and his wife were when they saw the ring. Dustin later texted me "I'm still in shock, I don't know how to thank you....You just found the best memory of my life."
This recovery will certainly remain one of my favorite memories!
Sue Kaas
The Happy Owners!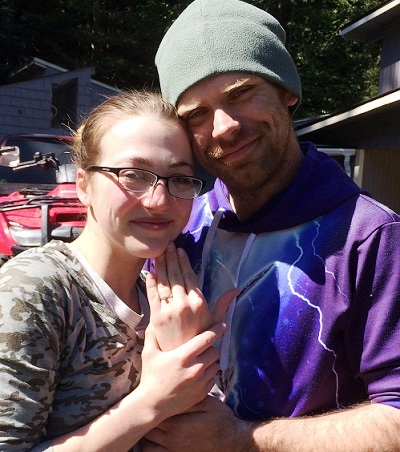 ~ ~ ~ ~ ~ ~ ~ ~ ~ ~ ~ ~ ~ ~ ~ ~ ~ ~ ~ ~ ~ ~ ~ ~ ~ ~ ~ ~ ~ ~ ~ ~ ~ ~
(Lost Item #2263)
John,
When I received notification that a lost wedding ring had been reported I reached out to Robert. He had been doing some yard work and while pulling weeds in his backyard he discovered his wedding ring was missing. He was certain he felt the ring slide off his finger when tossing some pulled weeds. He immediately began searching for the ring. After nearly two hours of searching he reached out to the Lost My Stuff website. The next morning I arranged to meet Robert and assist with the search.
Fortunately Robert was certain to the exact area where he believed the ring was lost. I began searching the area thinking it would be a quick search. The home was built in 1906 and had been added onto and remodeled over the years. The area was filled with targets, mostly nails and a few coins. I had searched for nearly 30 minutes and was becoming concerned. I noticed a plastic basket container that had been filled with weeds that had been pulled. I thought perhaps the ring may have slipped off when weeds were placed in the container. I swept the coil over the container and got a solid signal. I removed some of the weeds and found a tinfoil wrapper. I swept the container again and there was no signal. I removed a large handful of weeds and tried again. This time a got a solid signal. I removed more weeds and nestled at the bottom of the container I located the wedding ring. Robert was very relieved and grateful to have found his ring. I was so pleased to have found the ring and return it to him.
Thank you Lost My Stuff for the opportunity to be a search volunteer and to be able to serve in this way. This was my second search and my second successful find. What a great hobby we all enjoy!
Don Schell
The Happy Owner!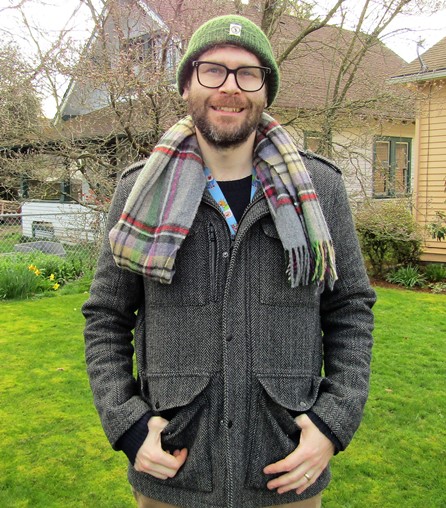 The Found Ring!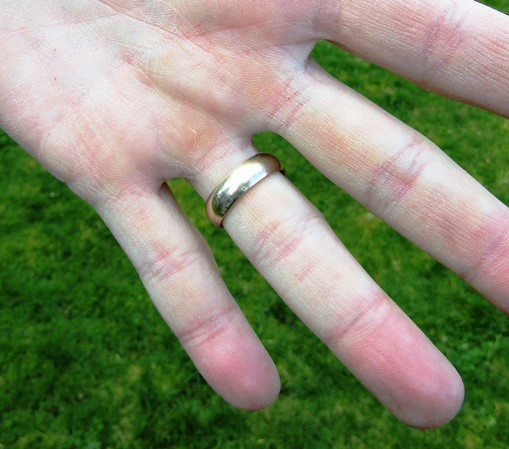 ~ ~ ~ ~ ~ ~ ~ ~ ~ ~ ~ ~ ~ ~ ~ ~ ~ ~ ~ ~ ~ ~ ~ ~ ~ ~ ~ ~ ~ ~ ~ ~ ~ ~
This Success Story was received from one of our volunteers who found a ring for someone who contacted him for help, without filing a Lost Item Report:
Some of you may not be aware that one of my hobbies is metal detecting as I've done it on and off since I was a teenager and in fact built my very first one from a kit. I am a member of our neighborhood forum so when I saw a post that read "Metal Detector Needed" I was naturally curious. I made contact with the homeowner and it turned out that he had lost his wedding band and was hopeful that I might be able to find it.
One of the cool things about this hobby is you get the chance to help people find things that have great meaning to them. The homeowner shared with me that he'd been married over 40 years and that he rarely took his ring off. It had become so tight that he had to have a jeweler enlarge it for him. That, combined with recent weight loss, contributed to the ring being lost in his yard as he was digging flower bulbs.
I went over today (33 degrees with rain/sleet/snow) determined to help find his ring. After about 30 minutes of searching I hit a good signal and found it. (it was jammed into the top layer of dirt). Needless to say he was quite pleased as I was!
David Stephens
The Found Ring!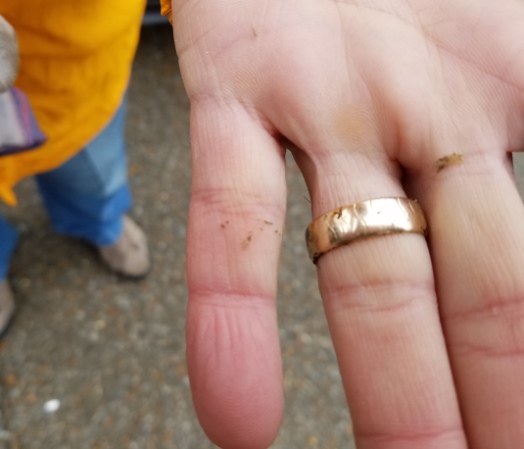 ~ ~ ~ ~ ~ ~ ~ ~ ~ ~ ~ ~ ~ ~ ~ ~ ~ ~ ~ ~ ~ ~ ~ ~ ~ ~ ~ ~ ~ ~ ~ ~ ~ ~
(Lost Item #2212)
In the past 24 hours we experienced a very heavy snow storm dropping 6 to 8 inches of snow. Leaving work that night it was necessary for Erin to brush snow from her vehicle. When she arrived home she discovered her ring was missing. The next morning she returned with friends in an attempt to find the ring. They were unable to find it. Not only was Erin newly engaged, the ring was also a family heirloom with a great deal of personal significance. It was then she located Lost My Stuff and submitted a Lost Item Report.
I contacted Erin and arranged to meet her in the parking lot of her work place. She was very specific in showing me the area where she believed the ring was lost. It was approximately 20' by 20' and covered with 6" of snow. I turned on my AT Pro and began the search. I went about 20', turned to make a sweep in the opposite direction, went 3 feet, and got a very solid signal. I bent down to scrape the snow away. Erin quickly joined me and as I removed the packed snow, she reached into the hole and picked up her ring. It was a very emotional reunion. Through many tears she thanked me. She then confessed that she didn't think she would ever see her engagement ring again. She was thrilled and it was certainly the high point of my day.
Don Schell
The Happy Owner!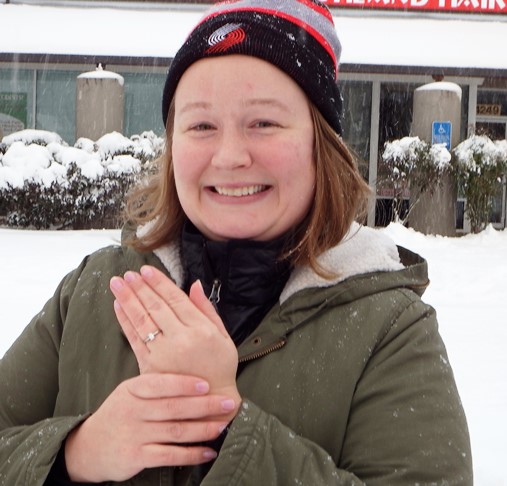 The Found Ring!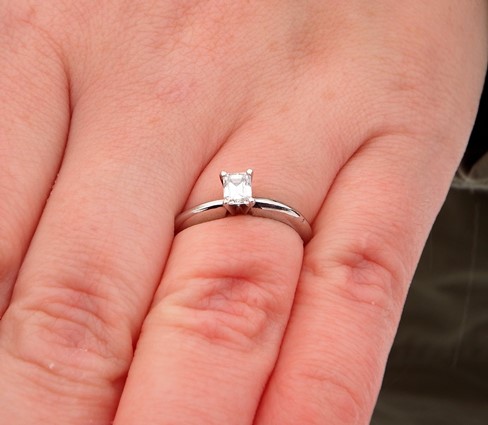 ~ ~ ~ ~ ~ ~ ~ ~ ~ ~ ~ ~ ~ ~ ~ ~ ~ ~ ~ ~ ~ ~ ~ ~ ~ ~ ~ ~ ~ ~ ~ ~ ~ ~
(Lost Item #2102)
I lost my tungsten carbide wedding ring while in my backyard on August 27th, 2016. Somehow, it slipped off while swimming and I was sure it was somewhere around the deck in the grass. After spending all afternoon searching for the ring I had worn for seven years (including a year in Afghanistan) I decided to reach out online for help. I found the "Lost My Stuff" page and filled out a report. I spent many days on my hands and knees combing through the grass with my fingers and began to feel hopeless.
A couple weeks went by and I replaced the ring but I could not get over the sense of frustration I had knowing that my ring was somewhere in my yard yet, there was nothing I could do to recover it.
I was contacted by two members of the LMS group this week and they met me at my house on Saturday morning. After showing them the area I believed the ring was, they went to work. In less than two hours, I had my ring back!!!!! It was buried a couple inches deep on the opposite end of the yard that I assumed it had been.
Without Chad and Foster, I would have never seen my ring again. I cannot express in words the happiness and relief they brought me today. They were willing to take their personal time to help a complete stranger and in the end, they were rewarded with the satisfaction of returning my ring to me. Chad and Foster also gained new friends today and this would have happened regardless of finding the ring. Chad and Foster also had informed me this was their first expedition for the LMS Group and I know this will be one of many successful days they will share helping others reconnect with their lost valuables.
Thanks again to Chad, Foster and to the Lost My Stuff Group for finding my ring and for finding my family new friends!
V/R,
Ben
The Found Ring!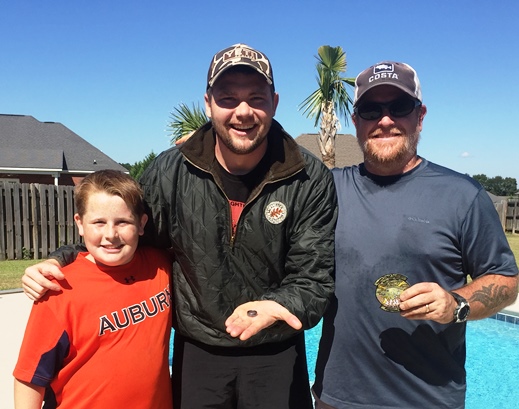 ~ ~ ~ ~ ~ ~ ~ ~ ~ ~ ~ ~ ~ ~ ~ ~ ~ ~ ~ ~ ~ ~ ~ ~ ~ ~ ~ ~ ~ ~ ~ ~ ~ ~
(Lost Item #2133)
I contacted Don Morton after receiving an email alert from lostmystuff.net. The ring slipped off his finger on Thursday while fishing at Lake Fork. He heard the plop and watched it flutter down in the water. I arranged to meet his friend at the location on Saturday since Don had a wedding to attend. His 5 year anniversary was on Sunday and he was very upset about the ring. I told him I'd do my best to find it.
I met up with his friend and followed him down to the dock near the area the ring was dropped and he showed me the general area. I climbed down the ladder into the water and turned on my Garrett AT Pro. My first signal was a can but after that I got a 50-53 signal. It took two scoops to get it but the ring was in the scoop! Took a total of 10 minutes to recover it!
Here is what Don sent me:
You know in 54 years very few things have left me at a loss for words besides the fact that I died in my driveway in November. I can not express my gratitude enough for your sacrifice of time and effort to help a complete stranger. It is people like you that give the human race a fighting chance against all odds. As I said before or maybe not, your an angel in big mans clothes.
Thank you
Thank you
Thank you

The Found Ring!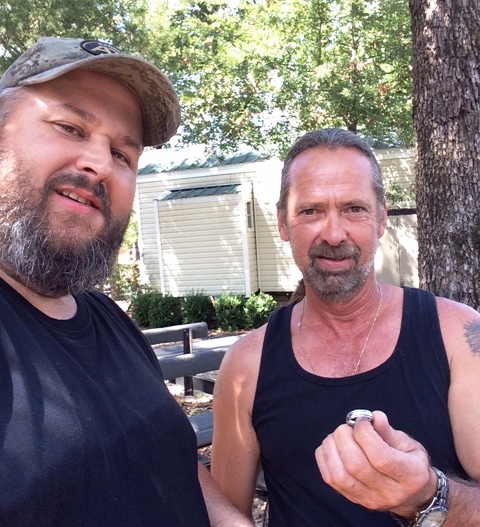 ~ ~ ~ ~ ~ ~ ~ ~ ~ ~ ~ ~ ~ ~ ~ ~ ~ ~ ~ ~ ~ ~ ~ ~ ~ ~ ~ ~ ~ ~ ~ ~ ~ ~
Click here to see more of our Success Stories.